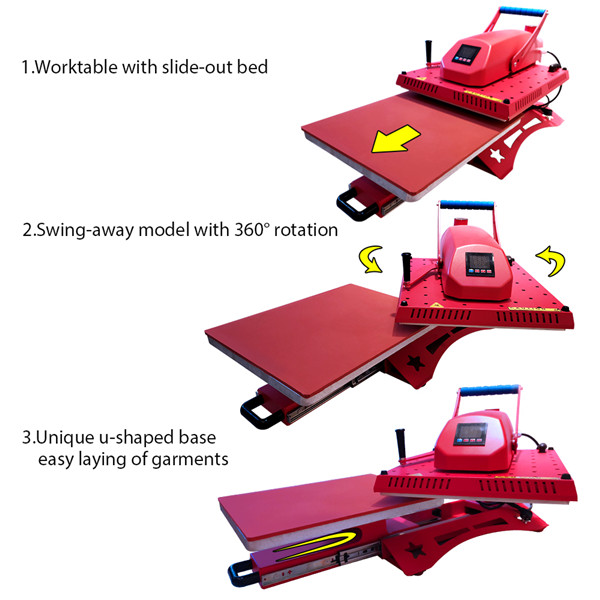 Model

No.
XY-006A
Machine

Type

Swing

&Withdrawing
Name

Star

series

swing

machine

with

drawer
Controller
LCD

controller

Voltage

110V/220V
Power

1.8kW

2.2kW
Time

Range

0-999sec.
Max.

Temp.

399°C

Printing

Area

38cm

x

38cm

40cm

x

50cm
Pringting

Thickness
up

to

70mm
Gross

Weight
46kg
52kg
Package

Size
72.5*44*45cm
75.5x51.5x48cm
Notes
Can be sublimated logo or type, solvent type ink, high temperature and pressure, and a certain amount of time, heat transfer printed cotton, hemp, chemical fiber, metal, ceramic, glass and other material, can also be used for flocking heat transfer and heat treatment of foaming printing, convenient and practical.
The machine is packed in wooden package and provide with manual.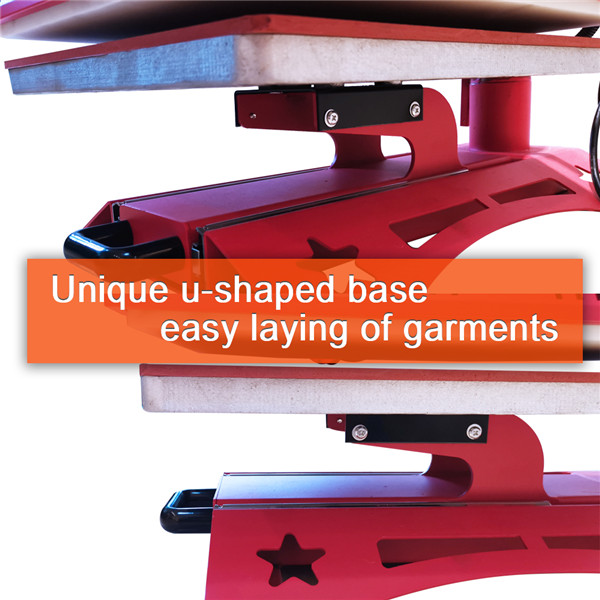 ①Put the material on the table,adjust the pressure knob gett right pressure required
②Connect power plug and turn on power
③Set time and temp you want with temp/time gauge get required numbers
④The temp for heating plate will star to rise up, when it reaching temp you set,put the material
on the working table and close the handle
⑤The buzzer will sound when reaching time you set,release the handle and take out the material

1) Setting the Target Temperature: Press the "SET" key, when panel shows " SP" , then press the▲ (up) or▼ (down) to set the temperature. You may refer to "Suggested Time and Temperature" to determine the suitable temperature and time according to the materials you intend to use.
2) Setting the Target Time: Press the "SET" key, when panel shows "SL" , then press the ▲ (up) or ▼ (down) to set the time.
3) Press the "SET" again for two seconds to save the temperature and time settings.
4) Working Temperature: After you save the target temperature and time, the panel will show the working temperature, which is the current temperature of the heat plate. The heat plate will take some time to warm up. Please wait until the working temperature reaches the target temperature - only then the machine is ready to use.